brms1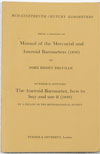 Manual of the Mercurial and Aneroid Barometers
John Henry Belville
Turner & Devereux Publishers, London, rare 1975 consolidated reprint of the 1840 and 1849 originals on each subject
Very fine condition. Clean, with sound binding.
Paperbound. 4.75 x 7.5 inches. 32 Pages, several line drawings and tables. A book dealing primarily with the technical aspect of barometers, not the esthetics. The aneroid barometer is handled in its own appended section of 1849. A useful insight into the thinking of the 19th century regarding barometers as weather predictors and altimeters.
ISBN•ASIN:
22.50
2.72
brms2


Barometers
Bert Bolle
Antique Collectors' Club Ltd, England, 1984 English translation of the 1978 original
Book in very good condition, dust cover complete but rough.
Hardbound, with dust cover. 8.5 x 10 inches. 255 Pages, heavily illustrated with b/w photographs and line drawings. Bolle's assemblage of the information is in three parts; development of the various forms of barometer, photographs of the wide range of barometer types and styles, and lastly the technical details. The historical data is especially good, using contemporary illustrations and documents to chronicle the major points of progress. This is one of the few books on the subject to picture barometers other than the English ones.
ISBN•ASIN:
0902028669
SOLD

brms3


The Italian Influence on English Barometers from 1780
Edwin Banfield
Baros Books, England, 1993 first edition
Like new condition.
Paperbound. 6 x 9.25 inches. 160 Pages, photographs of about 200 mercury and aneroid barometers, a few reproductions of historical documents. Italian immigrant instrument makers first moved to France and Holland from the Lake Como region in the mid 18th century, then set up shop in England in the last years of the century. They soon came to dominate the barometer trade, and this warmly written little book chronicles the major developments along the way. A very interesting read for collectors.
ISBN•ASIN:
0948382074
SOLD

brms4


Antique Barometers: An Illustrated Survey
Edwin Banfield
Wayland Publications, England, 1976 first edition
Cover wrinkled and spotted, pages clean and undamaged
Paperbound, stapled assembly. 6 x 8.75 inches. 119 Pages, about 100 black & white photographs, line drawings, and copies of historic documents. A well-illustrated guide to English barometers in general, from the earliest mercury ones to the later aneroids. Each major type, wheel or banjo, stick, angle, marine, Fitzroy, and scientific instruments is discussed in detail, with progress by the major contributors documented along the way. A good, compact study of the subject.
ISBN•ASIN:
ISBN 0950527203
15.50
2.72
brms5


Care and Restoration of Barometers
Philip R. Collins
Baros Books, England, 1990 first edition
Very good to fine condition.Covers slightly rubbed but no shelf wear or other damage.
Paperbound. 6 x 9 inches. 116 Pages, about 175 b/w photos and line drawings. If you want to restore your own barometer, this book will be your best guide. All aspects of the most routine restoration tasks are documented and pictured, along with very helpful instructions on how to carry them out. When a specialized shop-made tool is needed, the pictures of it will probably be in this book. Keep in mind that the author is British, and much of the terminology will have to be translated accordingly, such as the use of metric volume and length measurements.
ISBN•ASIN:
0948382058
SOLD