sndials1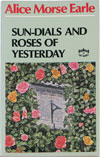 Sun-Dials and Roses of Yesterday
Alice Morse Earle
Charles E. Tuttle Co., Inc., 1971 reprint of the 1902 original
Good condition, no wear or tears to covers or book, but spine starting to separate in one place.
Paperbound. 4.25 inches x 7 inches. 461 Pages, 219 b/w photographs, 19 line drawings. Alice Morse Earle(1851-1911), American historian, wrote beautifully. Her warm accounts of American history and culture are still widely read. This is her historical survey of sundials and their cultural record and contribution (ever see one without a verse on it?), and since they are so deeply associated with the garden, she has related them directly to the rose and its history. You'll never find a copy of this book that isn't well-thumbed from repeated readings.
ISBN•ASIN:
0804809682
SOLD

sndials2


Sundials: An Illustrated History of Portable Dials
Hester Higton
Philip Wilson Publishers, London, 2001 first edition
Condition like new, book and dust cover both.
Hardbound with dust cover. 8.25 x 11 inches. 136 Pages, approx. 100 color photographs, several line drawings and charts. This book concentrates on portable sundials, the traveler's timepiece before good watches became available. The period is from the second millennium BC, well into the 19th century. Most of the examples shown, and beautifully photographed, are from England's National Maritime Museum. Like everything published by the Antique Collectors' Club, it is of the highest production standards.
ISBN•ASIN:
0856675237
42.50
3.72