George III Period mahogany longcase regulator by
James Rendell, Barnstaple, Devon
[Please note: larger images appear when the small ones are clicked.]

Case: True Regulators tend to be substantially built for stability, and this clock is no exception. The solid mahogany backboard is a full one inch thick, and the solid mahogany sides of the trunk extend nearly all the way to the floor, inside the base.The hood and hood door are narrower than a household clock from the same period would be, with less prominent mouldings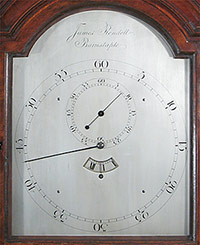 in order to make the dial the main feature. Very fine flame mahogany was used on the front of the case. The brass finials and the front "pads" under the foot are the only significant restorations.
Dial: The 12" wide single sheet brass dial is cut from very heavy gauge brass and engraved in full regulator format with minutes around the perimeter, seconds prominently displayed above the center, and hours (I through XII) shown in an aperture below the center. Hands are blued steel, with the seconds hand correctly replaced. Rendell's name and town are in the low arch.
Movement: The heart of any regulator is the movement, and Rendell's eight day timepiece engine is outstanding in design and execution. It is very large and heavy with shaped plates and six latched pillars, and is mounted on a thick mahogany seatboard. Escapement is deadbeat, with the pallets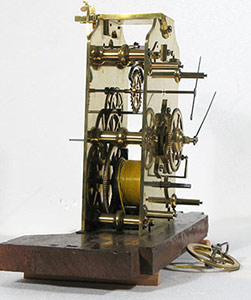 spanning 11 teeth. The winding is geared down and requires four turns of the winding crank for every turn of the cable barrel. Maintaining power is incorporated in this gearing; springs internal to the drum provide auxiliary driving force during winding. The train is of large and substantial wheels, each with six crossings and superb finishing, and the entire train is end-stopped by a large inverted pear-shaped plate on the rear plate of the movement (see below), to eliminate all end play from the arbors. A nine pound brass cased weight, original, provides power. A very large and heavy steel rod pendulum with a massive lead bob and engraved and numbered rating nut is used. Additionally, the pendulum's suspension hanger is latched onto the massive suspension cock that bridges both plates.
Interestingly, the movement is signed and dated behind the motion work,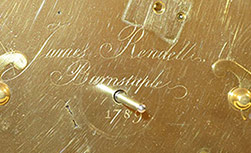 where only a clockmaker would find it. Rendell's name, town, and the date 1789 are engraved in the same hand that executed the dial engraving. Signed regulator movements were generally intended for the clockmaker's own use. As Rendell was a well-known Devon and Western Somerset watchmaker, this regulator was carefully made to be placed in a prominent location in his shop so that he, and the townspeople, could refer to it to calibrate their watches and clocks.
Maker: James Rendell is listed by Baillie as a known watchmaker who was married in 1785, in Wiveliscombe, Somerset, a village 35 miles east of Barnstaple. Ponsford, in Devon Clocks & Clockmakers, mentions Rendell twice; the first is his marriage announcement to "Miss Sally Owens, an agreeable young lady endued with every accomplishment requisite to make the marriage state happy", and the second for Rendell's listing in the Universal British Directory of 1793 as an ironmonger, clock and watchmaker in Barnstaple.
7'4" High
Dated by maker 1789
$29,000
No. 1699