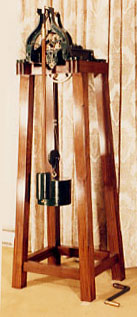 ENGLISH TURRET CLOCK
English turret or "tower" clock movement dated 1900, with cast iron frame. The movement is a timepiece only, with no provision for striking. The movement itself is complete and runs, but the assembly that would transfer action to one or more dials is not present, and would have to be custom-made for an installation in any case, as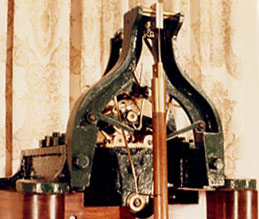 would dial and hands.
The movement is technically interesting, having been made with Lord Grimthorpe's gravity escapement, as used in the clock in Big Ben, in London, which was installed in 1868. This example uses a double three-legged version of that escapement.
Winding is provided with maintaining power, and the pendulum uses a mahogany rod, to minimize temperature expansion/contraction. The cast iron driving weight is in excess of 100 pounds, and the movement could drive two or more dials easily. Duration is of course dependent on the space the weight has to drop between windings, but the cable barrel holds enough turns for at least two weeks.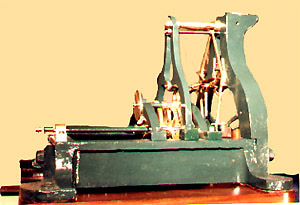 The original crank is included, and the movement is mounted on a very substantial custom-made mahogany stand that breaks down for transport and display. The iron frame has been sandblasted and painted, and the pivots have been polished and bushed as needed.

Dated 1900
Approx. size is 13" high, 19" long, 18" wide
$7,500.00
No. 772
[ clock catalog ]