CHARLES EDWIN INC.
Antique Clocks

Fine George III Period quarter striking mahogany longcase clock by William Woodman, Chelsea, London

Case: The case is likely of Honduran mahogany, with highly figured panels of veneer on the trunk door and base. Secondary woods are oak (backboard, parts of the base and hood) and pine (hood superstructure). The hood's pagoda superstructure is original, with restored fretwork in the front and restored brass finials. The fretwork panels in the sides of the hood are original. Brass furniture on the case includes Corinthian capitals on the hood and trunk, and brass stop-reeding in the fluted quarter columns. Unusually for a London clock, each major front panel is outlined by a very attractive cross-banding of mahogany, with lines of boxwood and ebony stringing (below, right). The "pads" on the feet are restored. The case is otherwise original except as noted above, with a recently polished older finish and excellent color.
Dial: The12" brass and silvered brass dial has an applied center plate that carries the chapter ring, seconds indicator and Woodman's signature. The dial arch has the monthly calendar and the control for the strike/silent feature. Spandrels are C & W 30, used primarily by London makers from 1755 to 1785. Hour and minute hands are correct restorations.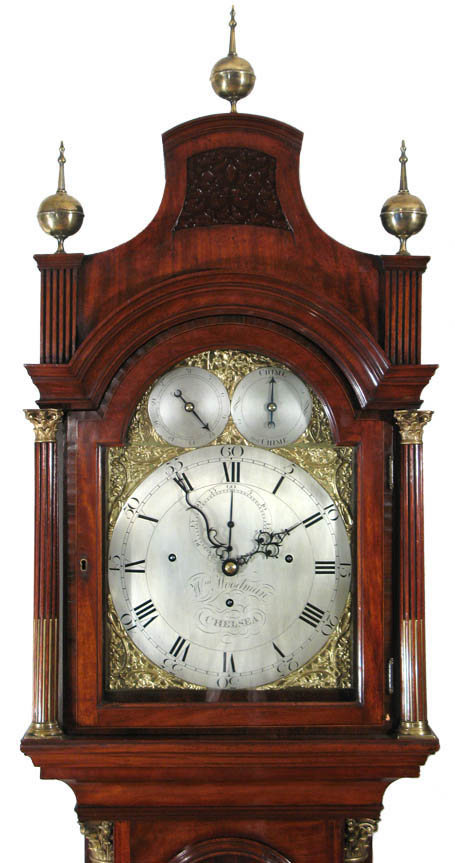 Movement: (Photos below) Woodman's substantial six-pillar movement is eight days duration with quarter hourly striking on eight bells and hourly striking on a large single bell. Escapement is anchor recoil. The three brass cased weights and very heavy pendulum are original (below, left). Strike silencing is featured. Dial, movement and case are all original to each other and the movement is on its original seat board. Quarter striking London clocks are very few in number.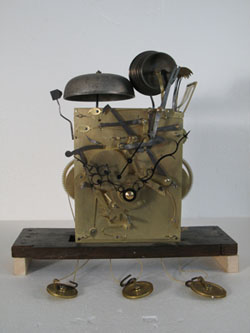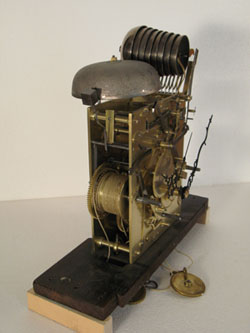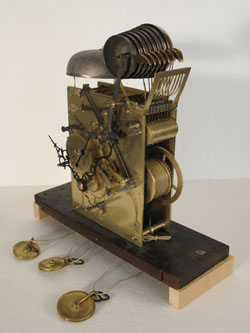 Maker: William Woodman worked in the London borough of Chelsea in the late 18th century. Baillie lists a William Woodman of London as being apprenticed in 1786, and the maker of this clock is likely his father. This particular clock was made well before the turn of the 18th century.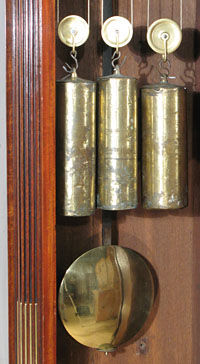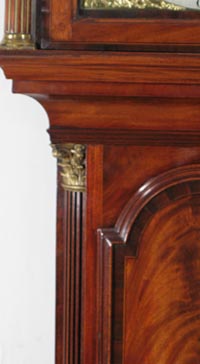 8'4" High
Circa 1780-1790
SOLD
No. 1658