Very fine George III Period 'Lancashire Chippendale'
longcase clock by Thomas Worswick, Lancaster
Case: This is an unusually slim case for a northwestern English clock, even at this early date. The trunk is just 13 inches in width. Although the case is largely of mahogany,

the trunk door is veneered in sabicu, a central American hardwood closely resembling mahogany.

The hood is designed with the very distinctive architectural pediment favored by the Lancaster cabinet makers in the mid-18th century. Panels of open geometric fretwork in the Chippendale pattern surmount the arch.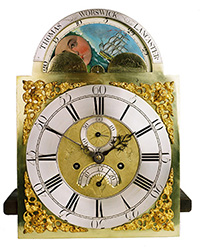 The glazed hood door is moulded in Gillows' manner, rather than the more usual flat veneered style, and the only brass trim shown is the central finial, a replacement. Smooth turned columns flank the hood door.
The long, shaped door in the trunk is veneered in book-matched panels in an interesting "quartered" pattern, and the trunk is further set off by fluted quarter columns. The base has a central panel of flame veneer set in a cross banded frame, and canted corners. The feet are original ogee brackets.

Dial: The very attractive 12 inch brass and silvered brass dial carries Worswick's name and city around the arch above the lunar dial, with engraving on the two half-moon humps. The large arched date aperture and matted center are early touches in this part of England. The fine blued steel hands appear to be original. Spandrels are of the angel's head-and-wing pattern featured on many Northern clocks after the mid-18th century.
Movement: Thomas Worswick's eight-day, four pillar movement strikes the hours on a bell, and features the usual seconds and date indicators, strike repeating, and lunar mechanism. Escapement is anchor recoil and the weights are cast iron.
Maker: Baillie lists Thomas Worswick as working from as early as 1753 to his death in 1804. Genealogy records show that he married Alice Gillow, of the famous Gillows cabinetmaking company, in 1756. Worswick is recorded as purchasing many clock cases from Gillows, and this clock demonstrates many of the firm's trademark features. Thomas Worswick was apparently quite a successful businessman and exporter of his watches and clocks. Lancaster City Museum is said to have a longcase clock by Thomas Worswick in the furniture collections.

8'1" High
Circa 1760-1765
No. 1641
[ clock catalog ]