English Regency Period mahogany
longcase regulator made in the Channel Islands.
Clocks produced on this island between England and France have, predictably, French and English design features in their cases and movements.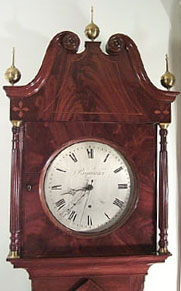 Case: The clock is in its original mahogany case, with a typical Jersey high scrolled pediment relieved by inlay and stringing, with rosewood cross-banding outlining the door, plinth, and corners of the case.
Dial: The round single-sheet silvered brass dial has Regulator engraved on the face, which indicates that the movement is built with features that improve precision in timekeeping.
Movement: Designed to operate quietly and accurately, the clock's Comptoise pinwheel movement runs for about 3 weeks on each winding (a taller clock would run longer), and has maintaining power, dead-beat escapement, and a type of gridiron pendulum. The movement has a center sweep seconds hand but no calendar and no strike.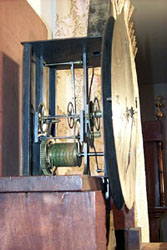 Circa 1820
7'7" High
No. 775

[ clock catalog ]