Sympiesometer, a 19th century compact barometer

T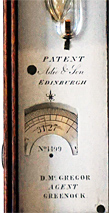 he sympiesometer was first patented and made in Scotland by Alexander Adie in 1818. It is more compact and less subject to mishandling problems than mercury-filled barometers, and suitable for use on ships at sea as well as in homes and public places.

The upper part of the pressure-measuring tube is filled with hydrogen and the liquid was a type of clear oil with a brown tint for good visibility. Atmospheric ressure is then read from the height of the oil in the tube in the same manner as a mercury barometer.

This example is of large size, and in a fine mahogany case. The engraved, silvered plates are of very good quality. The "agent" (retailer) is shown as Duncan McGregor of Greenock Scotland (practiced 1836 to past 1900), a purveyor of a wide range of instruments.


Circa 1840
24" high, 2.75" wide, 1.25" deep
$1,350.00
[barometers]