George III Period
mahogany dial barometer
by Dominick (?) Lione, Holborn, London

A very good George III London-made dial barometer by Lione (probably Dominick) & Co., Holborn, London. Deep brown mahogany veneers are outlined by a triple line of boxwood and ebony stringing, and the boxwood inlays are the distinctive fan shape of the first dial barometers popularized by the Italian makers.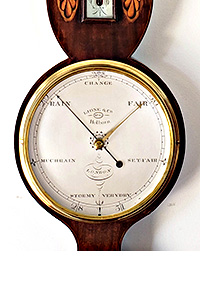 The engraved silvered dial shows the weather indications in horizontal format, a feature found in a very small number of barometers around this period and probably the work of a single engraver. The ivory finial is original.


Circa 1790-1805
39.5" high, 10" wide at the dial
sold [barometers]