George III Period
English mahogany stick barometer
by John Merry Roncketi, London, England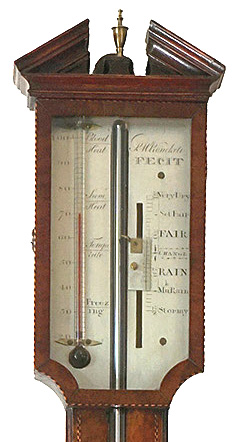 A fine Georgian stick barometer by noted maker John Merry Roncketi (various spellings recorded). J. M. Roncketi was one of the earlier Italian craftsmen to settle in London near the end of the 18th century, and was known for the quality and sophistication of his barometers.

The silvered register plate is protected by a glazed door that is shaped at the lower edge to flow into the trunk section. Elaborate boxwood and ebony stringing frames the door and trunk, and the inlaid cistern cover is original. The color is a warm brown.



Circa 1787-1819
38" high, 5.5" wide at the cornice
No. 1706
$2,750 [barometers]