George III Period
mahogany dial barometer
by Joseph Somalvico, Holborn, London

Italian craftsmen emigrated to England in the last quarter of the 18th century and introduced the dial form of mercury barometer. Joseph Somalvico was one of the earliest to set up workshops in London, and this barometer is one of the first forms he offered.

The case is veneered in figured mahogany, set off by inlays of boxwood and ebony. Several design elements are characteristic of these very early barometers: the top, now rounded, which later supported a separate pediment; the star inlays at the top, center, and bottom of the case; inlaid stylized flowers which evolved into the familiar seashells on later dials.

The bezel that holds the glass over the dial is turned from solid mahogany, rather than the later use of brass. An unusually long spirit thermometer is set above the eight inch engraved and silvered dial. A fine and rare example.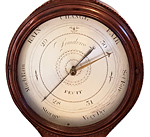 Circa 1790
35" high, 9.5" wide at the dial
No. 1162
$4,750 [barometers]